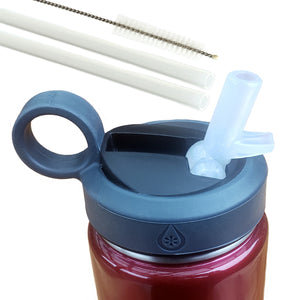 Paravalve High Performance Straw Lid for Wide Mouth Hydro Flask & Nalgene Water Bottles, Leak Proof, Smart Vent, Insulated, BPA-Free - Ring Handle
Sale price Price $11.95 Regular price $14.95
High Flow/Low Effort:  The patented Paravalve dual ball valve straw lid offers high flow with minimal suction effort due to the wide water path and unrestricted air path. It's so effortless that most people find they drink more water.
Leak-proof:  With the spout closed, the air and water path each have their own silicone seal, making it completely leak-proof.
Smart Vent:  Move the spout from the closed position to halfway open to depressurize the bottle and prevent blow-back up the straw. The smart vent makes it the only straw lid suitable for use with carbonated beverages.
Ice lasts longer:  Our lid is insulated to help maintain the temperature of your beverage and minimize condensation which can soak your belongings. A vacuum insulated bottle deserves an insulated lid; ours is one of the few available. Safe for hot liquids too! We recommend not exceeding 140 degrees F. (60 degrees Celsius) to prevent burning your mouth.

Unbreakable Rubber Handle: The Ring handle and the Shaka handle are made with unbreakable rubber. The ring handle is a unobtrusive minimalist design. The Shaka handle is designed for heavier bottles with an ergonomic 3 finger design that keeps your wrist in a natural alignment when carrying long distances - it's more comfortable that way and won't bang against your leg as easily since it's angled front to back.

Includes 2 straws and 1 straw cleaning brush: Straws are 260mm (10.24"), long enough to fit a 48 oz Nalgene Silo bottle without cutting, and all Hydro Flask sizes. The straw must be cut to length for your bottle.
Easy to Clean: The solid spout is easy to clean - No rubberized spout to get chewed up or degrade. Top rack dishwasher safe. Made from BPA FREE polypropylene.
The straw connects to the lid with an external straw connection: The straw inserts into the lid. The internal straw connection used by cheaper lids have a small tube that inserts into the straw which can stretch and crack the straw, and the small diameter tube also restricts the flow, making it harder to drink.
Buy two or more and get free shipping!